Find Best Metastock Trading System – Download FREE Metastock Formula
Everyone wants to find the best metastock trading system.
In our experience even the best metastock trading system can fail if the trader does not control the greed and fear. So instead of searching for the best metastock trading system lets try to build one of the simple and best metastock trading system or explorer.
How to design the best metastock trading system?
Lets start with the major components when designing any mechanical exploration system. They included a measure of Price the most major component.
Now how do we code this into MetaStock. You need to know MetaStock formula writing. This one secret, although very simple, will ultimately turn you into a MetaStock guru. Well, when coding in MetaStock, the key to getting it "proper" is to write it down in plain English.
Let's see what we mean by looking at an example. Say, our entry condition is a measure of price. Please note: the values you select will depend on the exchange you are trading (some markets tend to be more expensive than others.) However, for this example, we are looking to design a long-term trend following system to trade on the NSE Stock Exchange.
In NSE, anything under Rs. 20 could be classed as speculative. So how do you stipulate those stocks must be greater than Rs. 20? Now here comes the "write it in English first" part: We want stocks with a 21-day average of closing price to be greater than Rs. 20.
Next, we need to convert this into MetaStock formula. Using the formula reference guide in the MetaStock Programming Study Guide, you can check the syntax of a moving average. With this information, it's simply a matter of plugging in the correct numbers. Then, by using the "greater than" symbol, you can stipulate the price to be greater than Rs. 20.
The MetaStock code looks like this:
Mov(C,21,S) > 20.
So its real easy. Open Metastock. Click Tools –> The Explorer –> New. Give a name to your exploration and paste the code we created. Voila you have coded your first exploration. You can explore for all stocks closing above Rs. 20.
Next, we have tested a lot of Metastock trading systems. We are sharing with you one of our choice from the list of best metastock trading system. See the image below for Omega, that you can use on your end of day charts and find the buy/sell levels. It will also give you the targets and stop loss for your next trading days. Check the image below for more details. Click on the image for a larger view.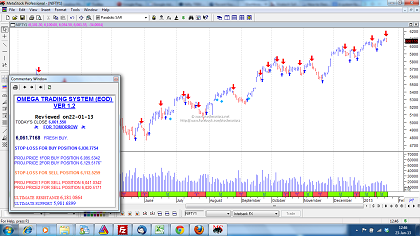 You can download and use Omega, the best metastock trading system by clicking the button below. You need an account in Facebook to download this file.
And now you will instantly see next day's trading levels appear in the charts of Metastock. You may distribute Omega, one of the best metastock trading system to your friends, but do not forget them to refer them to our site. Remember even all StockManiacs.net freebies are copyrighted for 164 countries, so if anyone tries to modify or sell these freebies we will be compelled to take strict legal actions against them.
Suggested reading: Intermarket Trading Strategies (Wiley Trading)
. If you like the post share it with the world using the social share icons below.