MCX Holidays For 2013
As usual MCX India has published their MCX holidays for 2013. But before you read the post take 2 minutes of your time to check our 2 killing trading systems: Trend Blaster and Super Scalper.
MCX Holidays for 2013 for the Exchange during the Calendar Year: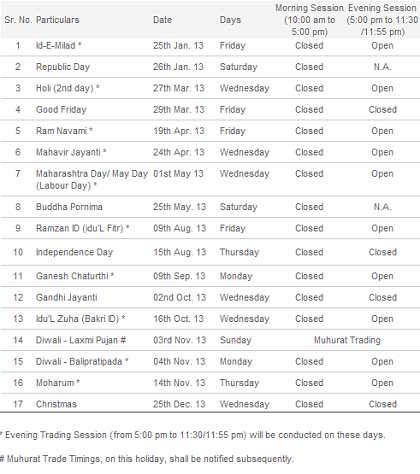 Note: This Timing may vary from actual one. We are not responsible,Visitors may need to verify before accepting this timing.
GOLDEN TRADING RULES OF MCX TRADING
Do not over trade.
Always remember to maintain stop loss.
Always modify stop loss on every price rise or fall.
Never try to recover losses on the same day.
Always book profit on first available opportunity.
Avoid trading in volatile market.
Money can not be made everyday from markets. Accept losses.
Never average your losing positions.
Do not execute many trades that you can not control at one time.
Always follow these instructions.