What Is Turtle Trading System? Download Free Amibroker AFL Codes
What is Turtle Trading System?
Mid 1983. Famous commodities (futures) speculator Richard Dennis argues with his buddy Bill Eckhardt about whether great traders can be trained, or whether it is an innate ability. To settle the argument of nature versus nurture, they decide to try and teach 13 beginners to trade, and if they can master the rules, fund them with large trading accounts. These beginners, whittled down from over 1000 applicants, are known as the 'Turtles'. Over the next four years, the Turtles earned a collective compound rate of return of over 80%. Argument settled.
Investopedia says to settle the bet, Dennis placed an ad in The Wall Street Journal and thousands applied to learn trading at the feet of widely acknowledged masters in the world of commodity trading. Only 14 traders would be make it through the first "Turtle" program. No one knows the exact criteria Dennis used, but the process included a series of true-or-false questions; a few of which you can find below:
The big money in trading is made when one can get long at lows after a big downtrend.
It is not helpful to watch every quote in the markets one trades.
Others' opinions of the market are good to follow.
If one has $10,000 to risk, one ought to risk $2,500 on every trade.
On initiation one should know precisely where to liquidate if a loss occurs.
A Turtle Trading System covers each of the decisions required for successful trading:
Markets – What to buy or sell
Position Sizing – How much to buy or sell
Entries – When to buy or sell
Stops – When to get out of a losing position
Exits – When to get out of a winning position
Tactics – How to buy or sell
Turtles were taught very specifically how to implement a trend-following strategy. The idea is that the "trend is your friend", so you should buy futures breaking out to the upside of trading ranges and sell short downside breakouts. In practice, this means, for example, buying new 20 days highs as an entry signal and maintaining a 10 days low as the stop loss. Once markets move in your direction the stop loss is trailed as new 10 day lows form. As per another school of thought buying new 40 days highs as an entry signal and maintaining a 20 days low as the stop loss. Once markets move in your direction the stop loss is trailed as new 20 day lows form.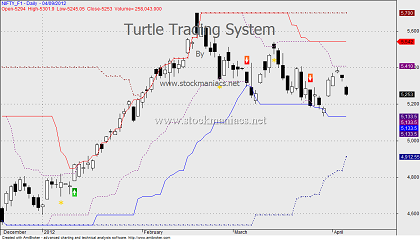 We are sharing a here a very advanced Turtle Trading System written on Amibroker platform. You can freely download the Turtle Trading System for Amibroker by clicking the button below. You need an account in Facebook to download this file and before downloading you need to LIKE our Facebook page. Click on the LIKE button below to download the system.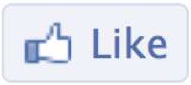 This trading system will give you a robust trading system that we have tested on almost every time frame. We have tested it on 5 minutes time frame to daily time frame and its back-testable. Rules are simple, arrows are entry signals and stars are exit signals. To know more on the system you may ask for special training schedule on chargable basis. mail us to helpdesk@stockmaniacs.net for more info. You may distribute this trading system to your friends, but do not forget them to refer them to our site.
Suggested reading: The Complete TurtleTrader: How 23 Novice Investors Became Overnight Millionaires
. If you like the post share it with the world using the social share icons below.